Something That I Wrote is the brainchild of my great friend Ryan Gaio. He is a brilliant writer and came to me with an idea of creating a podcast so that he can get his literary work out in the wild. Since I'm my social circle's resident tech guru, Ryan came to me looking for help with the technical side of the project.
After many meetings and deliberations, we finally decided what we wanted it to look like and how we wanted it to work. We decided to make it a full fledged audio podcast available on iTunes.
The two main technical parts of the project are the website and the audio itself.
The website:
We started with an HTML5 template and made it our own with many hours of visual tweaking. The main page shows all the episodes and a short blurb about what they are about. We decided that WordPress would be a great way to link and categorize each episode. I made a custom WordPress theme that looks exactly like the HTML5 homepage. The transition between them is seamless so that no one realizes they are actually separate (I don't even think Ryan knows there is a difference). This was my first time making a website and I was quite impressed with the capabilities of WordPress. I now see why WordPress makes up 50+ percent of the internet today.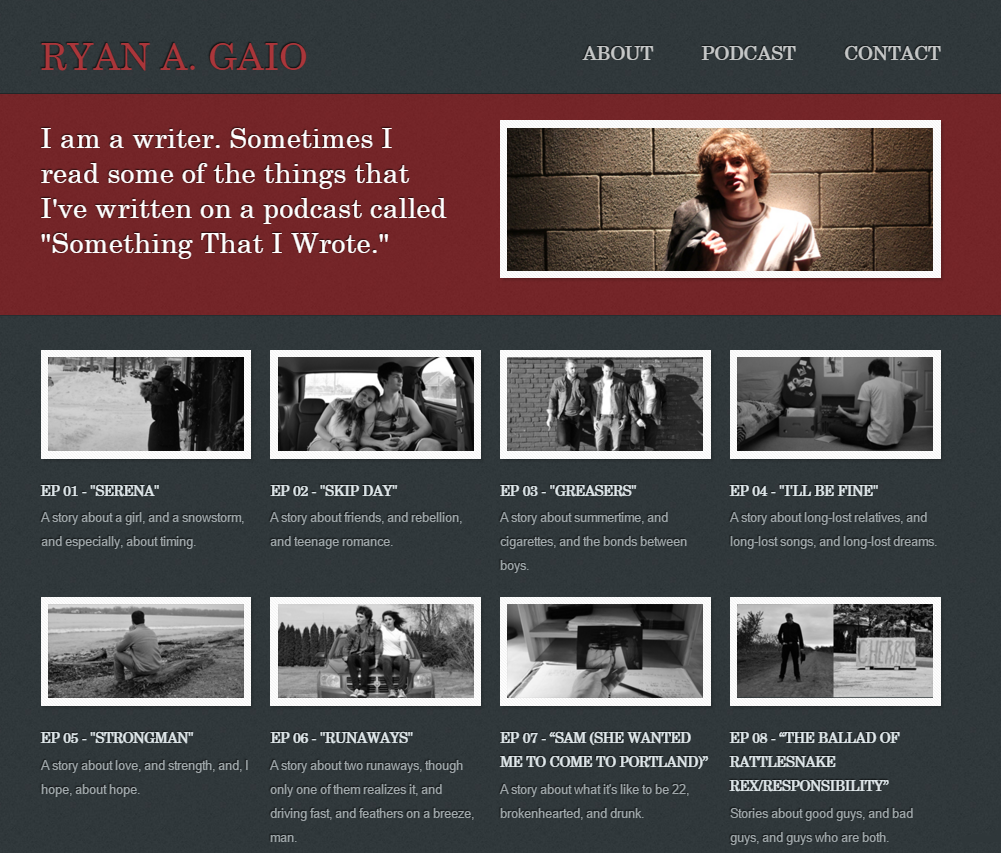 You can check out the website here: www.ryanagaio.com
The audio:
It is recorded on a USB Microphone and then uploaded to a program called Audacity for audio editing. Ryan actually handles this part. He adds the intro theme music and outro (that he recorded himself) to each episode. Once he has the final cut he will send it to me and I upload it to the server. Using a powerful plugin called Blubrry PowerPress I link the audio media to the site so that iTunes can index it properly. After a few hours iTunes picks it up and you can then stream it from your favourite podcast app on your phone or directly from our website.
Find it on iTunes here: https://itunes.apple.com/ca/podcast/something-that-i-wrote/id968015719?mt=2
Of course the main part of the project is the content. Ryan is a superb storyteller and I highly recommend you check it out and listen to some episodes. My favourites are Episode 6 – "Runaways," Episode 3 – "Greasers," Episode 15 – "Some Things End In Springtime, Some Things Start In Fall"
Click here to listen to Runaways http://podcast.ryanagaio.com:8000/episode-06-runaways/
We also made the local news! http://www.niagarathisweek.com/whatson-story/5336628-niagara-on-the-lake-writer-seeks-new-audience-online/